Your company's IT infrastructure is the backbone of an efficient business. Carefully and consistently maintaining IT hardware within this ecosystem ensures high availability and productivity across all business functions.
The maintenance of this infrastructure involves a combination of hardware support services and hardware maintenance tools administered either remotely or on-premises by IT professionals.
A hardware support package is not a reactive, quick fix to sudden hardware challenges; these services provide customized hardware preventative maintenance during and post-warranty for companies that may not be able to afford the costly Original Equipment Manufacturer (OEM) services.
Furthermore, preventative maintenance has proven to be a business-winning strategy. A 2020 report highlighted that 76% of industries prioritized preventative maintenance in managing their equipment. This statistic demonstrates that hardware support services can go a long way in preventing costly downtime and unnecessary emergency expenditure.

(Image Source: financeonline.com)
Hardware support services provide solutions to the following challenges:
Lack of a continuous strategy for servicing, repairing, and upgrading hardware components
Vendors not offering support for end-of-life IT hardware
Prolonging the lifespan of legacy IT Hardware
Costly hardware support packages from hardware vendors
Maintaining multiple Original Equipment Manufacturers (OEM) in a mixed IT landscape
Slow resolution of issues from IT hardware manufacturers
Stringent right to repair requirements enforced by OEMs
Overcoming the challenges listed above are why your company requires dedicated managed hardware support services. This article outlines why hardware support services are ideal for your company.
Managed Hardware Support Services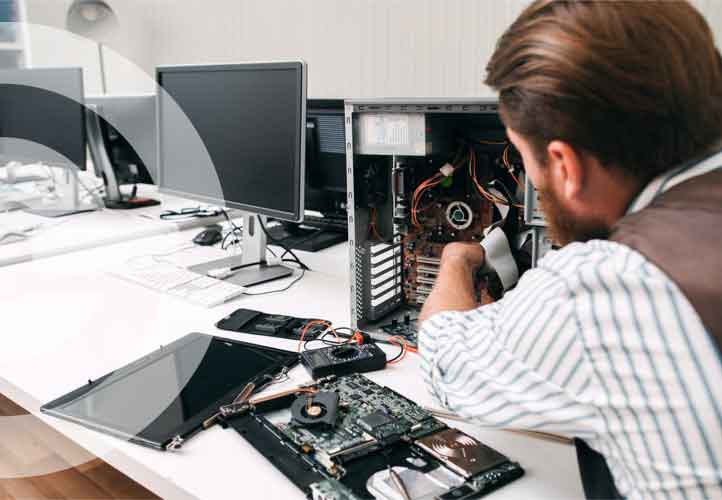 CG Technologies provides best-in-class managed hardware support services that are guaranteed to reduce hardware malfunctions and improve productivity for companies in the Greater Toronto Area (GTA).
We understand that your business requires round-the-clock support to cater to an unexpected hardware failure that results in costly business downtime. Our technical support team is on call 24/7 and will quickly resolve any hardware issues on-premises or remotely.
Our Toronto-based support team is fully certified and trained in all aspects of IT hardware maintenance. We pride ourselves in helping businesses focus on growing their business while we enhance the productivity of your IT infrastructure.
With CG Technologies hardware support services, you get a consolidated support package with a single point of contact for all your mixed IT hardware.
Our managed hardware support services extend beyond IT hardware; our business model centres around helping clients improve their business outcomes with a secure and reliable IT environment. Our managed support services offer more than just maintaining the physical aspects of your IT infrastructure. It is a strategic decision to ensure your IT infrastructure aligns with your business goals and contributes to realizing your vision.
How Does Hardware Support Translate to Business Continuity?
Helps in Solving Complex Problems
Managed hardware maintenance ensures that your systems are always available and optimized to perform complex processes critical to business growth and continuity. Developing solutions to business problems requires a smooth-running IT environment that combines high-performance hardware with business analytics software. This combination can quickly analyze trends and deliver accurate data that improves problems solving and decision-making.
Improves Operational Efficiency
Well-maintained hardware ensures employees can work uninterrupted by network or hardware downtime. Outdated hardware components or software that is not current can slow down business functions or, even worse, leave your network vulnerable to cyberattacks. With a managed hardware maintenance plan, you have peace of mind that your IT infrastructure is monitored 24/7 and that all the hardware and software that your business relies on is up to date.
Reduces Frequent Downtime
IT downtime is a costly affair for most businesses. According to a Statista report, IT downtime costs between 301,000 and 400,000 dollars for 25% of enterprises. Any downtime will inevitably negatively affect your bottom line. However, by implementing a managed hardware maintenance plan, companies can significantly minimize downtime and reduce business loss from your systems going offline.
Our Hardware Support Services Offer
Our hardware maintenance services capture remedial and preventative maintenance for all your IT Infrastructure per the agreed-upon Service Level Agreement (SLA). Additionally, we provide customized hardware support solutions in the following areas:
On-site installation and new hardware connection: We help you source and install new hardware and ensure that equipment is configured and connected to your network.
Sufficient spare part inventory that includes all leading national and global hardware vendors: Clients can trust us to provide all types of spare parts for their IT hardware without sourcing from the manufacturer, which can be costly and time-consuming.
Break/fix services where we send out technicians to diagnose and immediately fix hardware issues with our hardware maintenance tools.
Legacy hardware support extends the life of your IT infrastructure beyond what OEM support offers.
Secure your IT infrastructure with the latest malware protection and specialized security solutions.
On-time support with 15 minutes to 1-hour issue resolution time.
Certified on-premises and ad-hoc repair for scheduled and emergency hardware issues.
A dedicated customer web portal with all your company's hardware specifications to simplify and improve communication on invoices, spare part ordering, payments, and more.
Why Choose Our Hardware Maintenance Services?
Your business requires reliable IT hardware support so that your teams can focus on growing your business. CG Technologies understand your vision, and that's why we've designed our hardware support packages to deliver quick response support for your mission-critical infrastructure. Here are more reasons why your business needs a customer-centric partner who will ensure consistent uptime across your IT environment:
Speedy Response
We guarantee less than an hour response time for all your emergency hardware issues. In addition, we ensure our customers experience minimal downtime by providing remote monitoring to identify and remediate a problem before it impacts your business. Employees can create online service tickets through our quick response ticket system. Our technicians can access your hardware remotely and quickly resolve the issue so your employees can get back to business.
Wide-Ranging IT Support Services
Our one-stop hardware maintenance services cover all your hardware and software needs, including sourcing, installations, vendor management, and other IT infrastructure needs. You don't have to worry about sourcing different partners to support your mixed-use IT environment; we have all the hardware maintenance tools to handle multiple IT assets.
Certified Expertise
Our qualified technicians are fully trained and have the necessary certifications needed to support the latest technologies. Furthermore, our company is ISO 9000 compliant.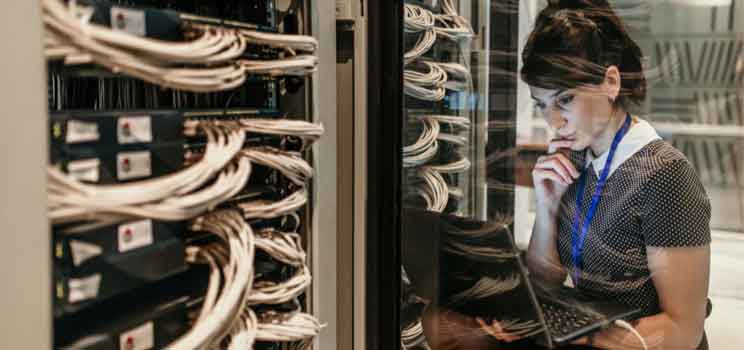 End-to-End Vulnerability Assessment and Management
In addition to handling hardware issues, security is a top priority. Cybercriminals are constantly looking for ways to hack into company systems and steal data for malicious use. We help your company protect your hardware with best-in-class malware protection and unified security solutions.
Remember, hardware maintenance not only involves replacements and repair of physical parts it also involves protecting computer assets from unauthorized access and harmful actors.
Comprehensive IT Hardware Monitoring
Optimizing hardware efficiency requires consistent hardware health monitoring. We employ industry-leading monitoring tools that provide the visibility to monitor, identify and resolve issues before they grow into bigger problems.
Localized Help-Desk Support
Our customer experience team is based in Toronto, so you are sure that help is readily available with no time-zone issues.
Unlimited Support
We are in the business of ensuring your hardware serves your business goals. Our technicians are available 24/7 whenever you need them.
Reduce Total Cost of Ownership
We help you extend the hardware lifecycle beyond that offered by manufacturers. Well-maintained hardware extends its operational working life and offers you an increased ROI from your IT assets and a reduced cost of ownership.
Post-warranty Support
You don't have to worry about an OEM's End of Service Life (EOSL); we provide post-warranty maintenance and support, so you improve the productivity of your current IT hardware. Hence, you don't have to upgrade your hardware whenever your manufacturer declares EOSL. We will help you extract more value from your existing IT environment.
Getting Started with Hardware Support Services
How do you engage a hardware support service partner? Contact CG Technologies to discuss your requirements. We can assess your IT assets and the level of maintenance they require and work with you to develop a hardware support package in line with your current needs and business goals.